Pricing Optimization
Pricing is often the most impactful profit lever a company can pull. We typically help our clients achieve 300 to 600 basis points or more of margin improvement based on our recommended changes in pricing strategy, execution, and capabilities.
But pricing is hard, and few companies focus on it in a meaningful way. Many issues cause leaders to hesitate in going after this powerful lever. Among the most common:
Leaders fear a price increase will alienate customers or cause them to lose business.
They don't realize how big the opportunity really is – or don't believe they can get it.
They lack internal and external visibility due to poor data and unwieldy systems.
There's no single, empowered owner with authority for pricing since responsibility is often shared across functions.
Leaders worry a pricing initiative may be resisted by sales, require major changes to sales, or won't be sold to customers effectively.
These fears and complexities create reluctance to pull the pricing lever – a big reason why pricing presents such a sizable, untapped opportunity.
At Blue Ridge Partners, our global pricing practice works with clients to tackle pricing initiatives and consistently deliver high impact. We combine our experience with rigorous pricing analytics and tools such as our 10 Levers for Pricing Effectiveness Framework to identify, quantify and capture quick wins and long-term value while enhancing capabilities. Getting benefits from pricing is about much more than just raising the price X%. Our 10 Levers of Pricing Effectiveness framework both accelerates and improves the quality of findings and results.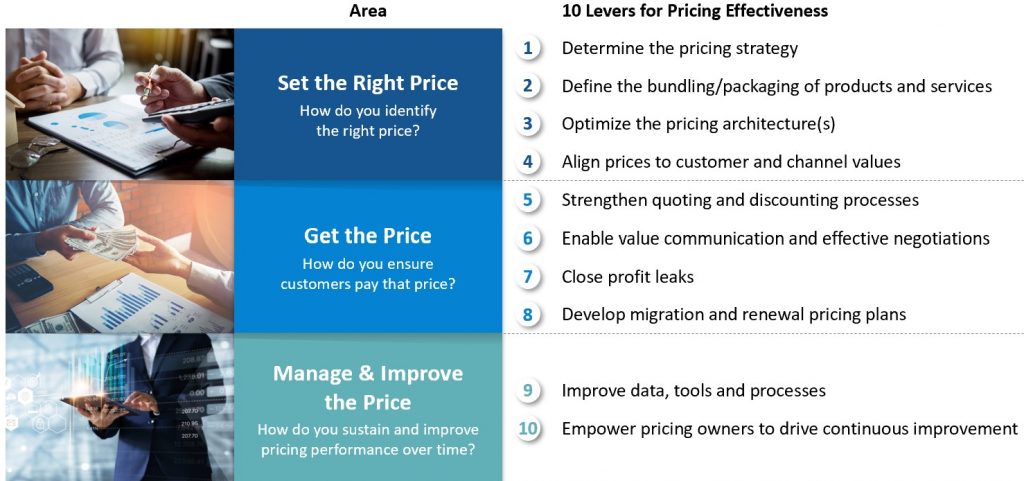 At Blue Ridge Partners, we know there is a big difference between identifying and realizing value improvements – and we work with you to help you do both.