Commercial Effectiveness
Growth requires strong and reliable execution from the organization's commercial functions—sales, channels, marketing, and customer service. Collectively, these areas typically hold many opportunities to accelerate revenue growth due to a confluence of internal and external forces, including the following:
Buyers are smarter, more demanding, and less dependent on traditional salespeople. They have initiated new procurement practices, and have readily available information regarding vendors on the Internet. Sellers must reach buyers via many channels to deliver products, services and information when, where, and how buyers want it.
New customer acquisition needs more, not less, attention as a company grows. As a company grows, it must pay increasing attention to attracting new customers. Existing customers attrite and must be replaced for growth to continue. Acquiring new customers is arguably the single most difficult challenge for most commercial organizations.
Tapping new sources of customers requires selling smarter, not harder. Over time, the easier sources of new customers become tapped out. Some companies decide to focus on existing customers at the expense of efforts to add new customers. This may be appropriate for some but for others, it can lead to slow or even negative growth.
The power of company-directed, vs. self-directed, sales teams. Traditionally, most sales organizations hire experienced sales reps, give them a territory, train them on the company's products, provide a motivating compensation plan and then wait for the results. There is a shift happening – more sales leaders no longer accepts this approach. Instead, sales reps are given additional support in understanding the targets in their market and how much time to spend on new customers versus existing customers. Sales reps are provided playbooks describing specific actions to be taken and are measured on selling activities, not just outputs.
The high-performing commercial organization must be a well-tuned system that can reliably create successful salespeople by guiding them to the most effective strategies for acquiring, retaining, and growing profitable customer relationships.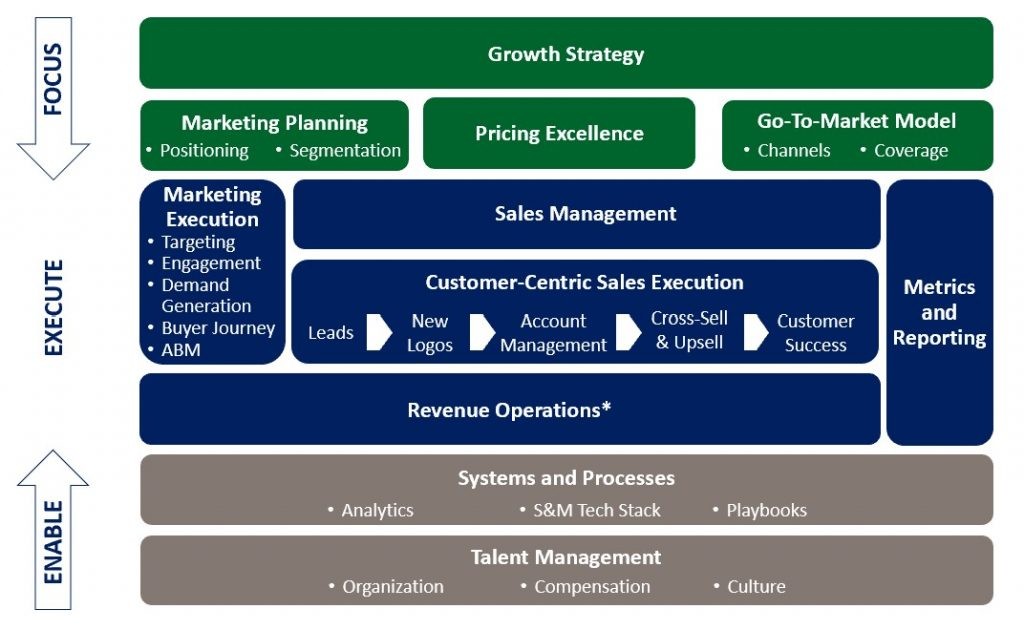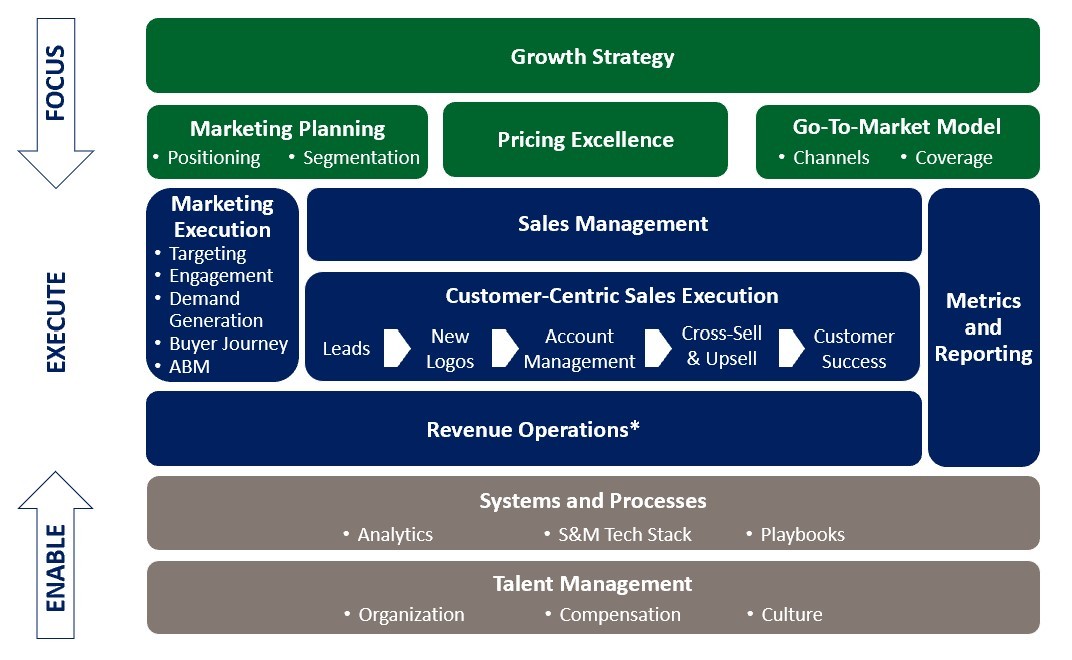 Realizing these growth opportunities may require a fundamental transformation in many commercial organizations.
Our commercial effectiveness practice assesses the strengths and weaknesses of these functions and identifies the changes required to significantly accelerate profitable top-line revenue growth. These changes might address the commercial strategy, the go-to-market model, sales processes, talent and motivation, field marketing and sales enablement, sales operations, sales management, and culture as depicted on the chart above.