Growth Strategy
Our strategic growth planning engagements deliver a clear understanding of the sources of growth that will materially contribute to company value. We use our Top Line for B2B Revenue Engines® methodology, frameworks, tools and approaches to examine the highest growth potential opportunities, identify market forces that might create risk or opportunity, assess internal capabilities needed to achieve the growth, and prepare implementation plans and financial forecasts for the initiatives

Identification of Growth Opportunities
We review management's current projections and strategy and analyze current data to develop granular insights about underlying revenue generation issues and potential growth opportunities. Management workshops provide an open forum to identify, assess and prioritize strategic growth opportunities based on significance and attainability. Workshop topics might include:
New geographies, segments, and channels
Product and R&D pipelines
Strategic partnerships
Potential adjacency markets
Key questions and issues to further validate the identified opportunities
Market / Customer Assessment
Conducting extensive secondary industry research provides a better understanding of market sizing and dynamics. Example questions include:
What market forces might create risk or opportunity for the company?
What factors and trends will affect demand for the company's products/services?
How are competitors positioned; What are their economics?
Customer interviews following our The Nine Voices of the Market® methodology can further identify potential growth opportunities and provide an understanding of the company's perceived market position.
Internal Capability Assessment
We use our 100 Behaviors of High Performing Revenue Engines™ methodology to interview key stakeholders and assess the company's current capacity and capabilities to pursue the identified opportunities. Example topics include:
How prepared is the client to capture the opportunity in the market?
Do they have the necessary capabilities and commercial processes?
What other capabilities are critical to achieving growth targets?
Key gaps can then be identified with a prioritized list of approaches to build required capabilities.
Validate Growth Drivers and Capabilities
The company's existing capabilities and market position are compared against the opportunities to provide a basis for assessing opportunity viability and setting initiative priorities as shown in the framework chart below.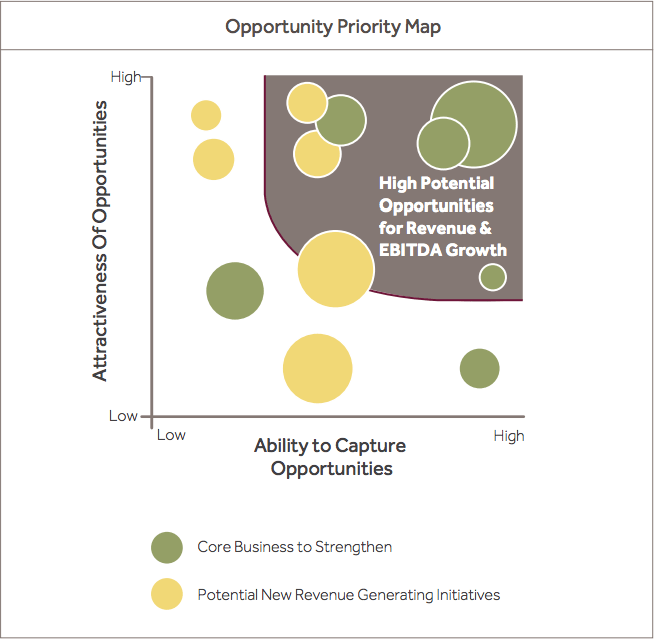 Sometimes, the growth strategy effort highlights a gap between the future revenue aspirations and the revenue trajectory available in the core business. In such a case, the growth strategy may well include extending the core business into new areas—end markets, geographies, products/services, and/or new channels.
Develop and Document Detailed Growth Strategy
The final step is synthesizing the internal and external data to create and document a multi-year growth strategy based on the high potential growth initiatives.
Draft initial requirements and capabilities list for growth strategy, including key capability gaps relative to the current organization
Build financial forecasts, both revenue and EBITDA
Identify key risks and implementation challenges
Develop a prioritized implementation roadmap for initiatives including required actions, investments, and estimated timing
Blue Ridge Partners supports clients in a variety of growth strategy-related projects, including:
Growth Plan Development: The identification of growth alternatives, the selection of the most attractive and impactful paths, and the preparation of a specific implementation plan.
Adjacency Scanning: A methodical approach of quickly evaluating a large number of potentially attractive adjacencies and prioritizing them based on company objectives and strategic and financial criteria.
New Market Assessments and Entry Strategy: In-depth reviews of markets to determine market attractiveness, "what it takes to win," strategic fit with the company's capabilities and assets, and best way to enter, e.g., make vs. buy.
Annual Growth Plan Refresh: An annual review of growth plan status and assessment of any significant market or internal capability changes that would change the growth strategy.