Predictive Targeting: The Next 'Play' in Growing Existing Customer Revenue
To achieve 2023 revenue plans given recessionary headwinds and continuing inflation, companies need a new revenue growth 'play' beyond what was already used over the past few years. This new play provides a valuable way to drive revenue growth from existing customers quickly, particularly as winning new logos becomes more difficult in challenging economic climates.

Some companies have begun leveraging 'Predictive Targeting' — a data-driven, Moneyball®-like approach to focusing selling efforts on specific customers most likely to buy more and the specific products they are most likely to buy next. Our survey data show that executives expect this approach will lead to a 16-20% growth in revenue from existing customers, a figure that is also supported by our experience.
The Survey
In Q4 2022, Blue Ridge Partners surveyed 133 CEOs and CROs to understand the potential revenue growth impact of Predictive Targeting for upsell and cross-sell of existing customers.
95% of CEOs and CROs believe better targeting would improve results and 60% believe that it would be "highly impactful"
Executives estimate this improved targeting would generate 16-20% growth in new revenue from existing customers
While the role of the account management or customer success functions in growing and retaining customers is currently viewed as somewhat effective, CEOs and CROs believe that a predictive targeting approach to identifying which customers to target and which products to cross-sell or upsell would be highly impactful and a significant improvement to the current state.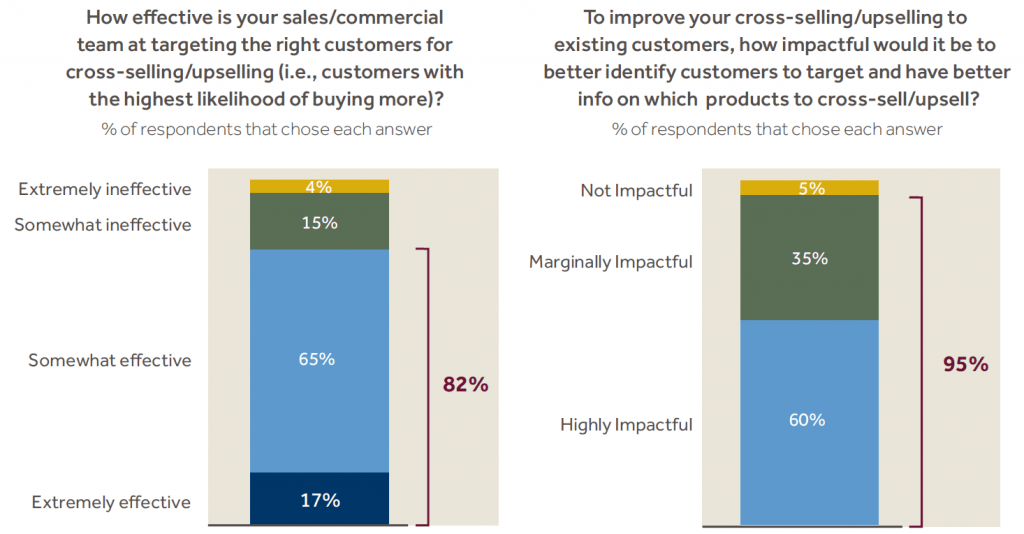 Predictive targeting is a data-driven approach to:
Identify which specific customers are most likely to want to buy more
Estimate the growth potential for every customer
Specify which products or services each individual customer is most likely to want to buy next
Determine the specific price each customer should pay given their discount level or status
This approach enables commercial teams to focus their selling efforts on just those customers most likely to buy more and on just those specific products and services each customer is most likely to buy next. Across industry groupings and company size, respondents were consistent in their expectation that improved targeting could improve customer revenue by 16-20% making this a high-impact, no-regrets area of focus.

Suggested Immediate Actions
Sales efforts against existing customer opportunities are different than those for new logos in that the commercial team is coming from a position of already knowing the customer and their potential demand and having their "foot in the door."
Leveraging knowledge about the customer as well as the existing relationship can lead to quick wins if the commercial teams are equipped with specific account and product/service targeting information. We recommend that companies take the following actions to generate incremental sales:
Enrich existing customer data by adding relevant external data and behavioral elements to support customer segmentation, scoring, and product/service targeting
Determine "white space" potential at the customer-level based on their overall profile and usage history to identify highest priority growth accounts and their purchasing patterns
Re-evaluate organizational responsibilities – consider assigning cross-sell responsibility to hunters and upsells to farmers
Update "playbooks" and training to emphasize account expansion as a key growth channel
Revisit 2023 compensation/incentive plans to align strategic objectives with account growth performance
About the Predictive Targeting for Upsell and Cross-Sell Survey
In Q4 of 2022, Blue Ridge Partners surveyed 133 CEOs and CROs in the U.S. in three primary sectors: software and technology; industrials and distribution; and business services.